If you're anything like me, and you're probably not, but if you're any kind of geek you've got several hard drives floating around your house or office and figuring out what's on them can be a pain as you've got to open up your case and install the drive or use an external HDD enclosure.
Kingwin has sent me over a very useful product for those of us that have many bare hard drives floating around, it's the EZ-Dock and it can actually accept either 3.5" or 2.5" hard drives and you can then connect them to your PC via USB cable or even eSATA to make the transfers a bit faster.
Kingwin EZ-Dock 2.5"/3.5" SATA hard Drive Docking Station
Author: Kristofer Brozio
Sponsor: Kingwin
Tech Specs,Features or the Basic Info:
Kingwin EZ-Dock 2.5"/3.5" SATA hard Drive Docking Station
Features:
1. 2.5" / 3.5" SATA Hard Drive Docking Station
2. Up to 480 Mbps Data Transfer Rate In USB
3. Up to 3.0 Gbps Data Transfer Rate In ESATA
4. One Touch Back Up Function
5. Plug and Play
6. Rohs Compliant
Model #: EZD-2535
H.D.D. Support 2.5" / 3.5" SATA Hard Disc
Dimension: 133 (W) x 123 (L) x 62 (H) mm
Support OS: Windows 98SE/ME/2000/XP/Vista
Mac OS 10x & Above
Withstand voltage: Input to output 1800Vac 3 sec.
Input to ground 1800Vac 3 sec.
H.D.D. Capacity: Up To 1TB (Seagate up to 750GB)
Interface: USB 2.0 and ESATA
A Better Look at Things:
The Kingwin EZ-Dock comes in a small, square brightly colored box with pictures and information listed on the sides.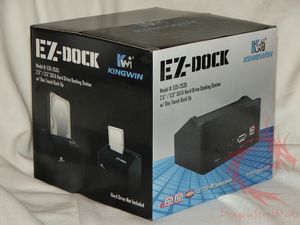 Inside we find another box and the dock itself, in the smaller box is the user manual, software cd, USB and eSATA cables along with the power supply.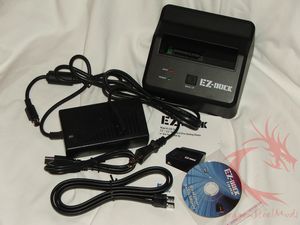 The EZ-Dock itself is a small plastic block basically, on the front are two LEDs to indicate power and activity along with the backup button. Inside of course is the SATA interface fro your hard drives.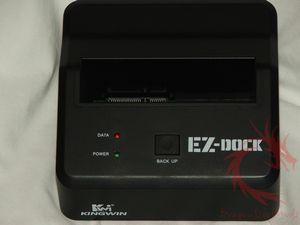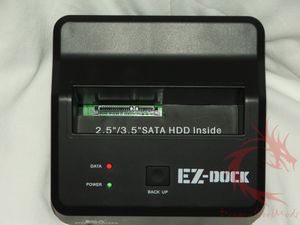 The back is where you'll find the connections for power, USB and eSATA along with the main power button.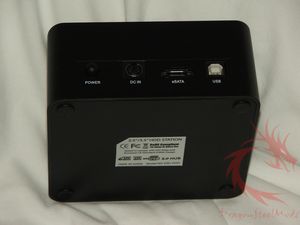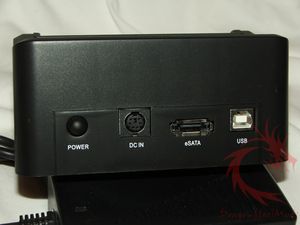 Installation, Testing and Comparison:
To use the EZ-Dock as if you just need to plug in the power, stick in a hard drive, hook to your computer and then power it on, it gets automatically recognized and installed by newer versions of Windows.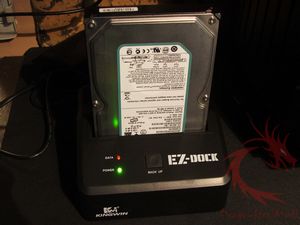 If you wish to use the backup button though you'll have to install the included PCClone EX lite software. The EZ-Dock comes with a full license for it so that's a nice added bonus,and it's easy to use as well. You've got the option as well to backup everything or just backup the things that changed which is nice.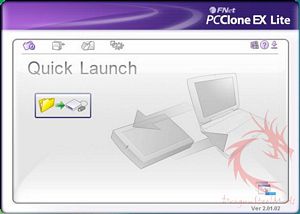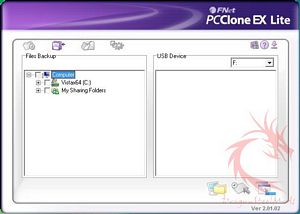 So let's see how it performs, I used SiSoft Sandra 2009 Removable Storage Benchmark to compare the speeds to another external enclosure and an internal drive. The same drive was used for all tests to make sure they compared evenly.
You can see transfer are a bit slow overall, but that's at the benchmark level, I've used the EZ-Dock several times already and I can't fell any difference in the transfer times compared to any of my USB external HDD enclosures.
Here's a closer look at the benchmark, or specifically the 256mb files test:
as you can see it's the Write Performance that brings the overall score down a bit, but as I said it doesn't feel any slower compared to an external enclosure.

Summary and Comments:
The Kingwin EZ-Dock is an extremely useful product, it offers the user the ability to easily access bare hard drives without having to install them in their case.
The EZ-Dock seems well made, and it's very easy to use. If you've got bare hard drives floating around, or even if you're in a tech related field I can easily and honestly recommend that you get this product.

DragonSteelMods gives the Kingwin EZ-Dock a 4.5 out of 5 score and our Recommended Award as well.